ENR's New York Regional Best Projects Awards Cyber Celebration honored the winning project teams that created the best projects of 2020, as well as ENR's Firm of the Year. CSA is a proud team member on the following projects being recognized:
Airport/Transit Best Project – LaGuardia Airport, Terminal B Arrivals and Departures Hall (Phase 2 Headhouse), submitted by Skanska-Walsh JV. CSA was part of the team working directly for the airport developer, LaGuardia Gateway Partners to design airline office, operations and support spaces for all Terminal B air carriers. CSA contracted as a subconsultant to Mancini Duffy and provided MEP and structural engineering design and construction support services on this project. We were also retained to perform all structural testing and energy code compliance special inspections throughout the entire building to its final occupancy.
Phases 3 and 4 are ongoing and nearing completion. Upon project completion, this fit out will include flight ops, airline employee spaces, restrooms, quiet rooms, training stations, Baggage Service Office, Airlines Ticketing Office, storage areas, locker rooms, breakrooms, IT rooms, Virtual Control Center and other support functions.
Safety Award of Merit – TBTA Contract RK-07, Design-Build of Electrical / Mechanical Rehabilitations at the Robert F. Kennedy Bridge Harlem River Lift Span (HRLS), submitted by HNTB NY Engineering and Architecture PC, sub to Kiewit Infrastructure Co.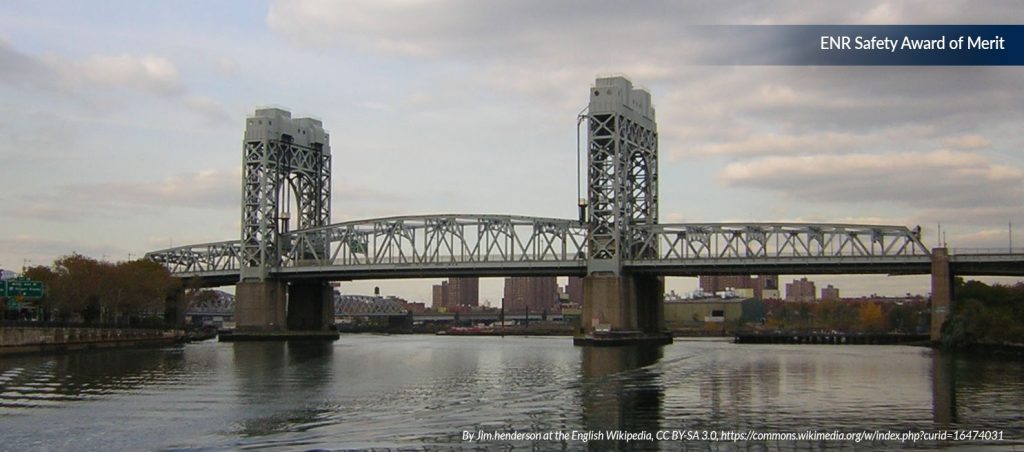 The HRLS (Manhattan) links the Harlem River Drive, the Franklin Delano Roosevelt Drive, and 125th Street to Queens and the Bronx. The sprawling three-span Triborough Bridge, which opened to traffic on July 11, 1936, was renamed after the late Senator Robert F. Kennedy in November 2008. The bridge carries a total of more than 160,000 vehicles daily to Manhattan, Queens and the Bronx; the Harlem span handles approximately 84,000 vehicles daily.
CSA's scope of work included an Architectural Visual Quality Management Plan addressing the aesthetic aspects and proposed work which would alter the appearance of the bridge and accessory spaces and monitored the project for compliance with the plan throughout the design. We also led the permit filings related to M/E Rehabilitations at the RFK Bridge Harlem Lift River Span. This work was necessary to maintain the existing lift span M/E systems in a state of good repair.
Congratulations to all the winning project teams that created the best projects of 2020 nationwide, as well as ENR's Firms of the Year!