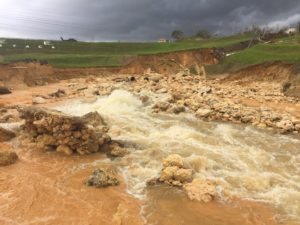 Natural Disaster Preparation and Recovery
In the ever-rising number of natural disasters impacting global communities, there is an immediate response followed by massive recovery efforts where there is opportunity to rebuild better, more resilient buildings and infrastructure.  The increased awareness and frequency of these events is driving the need for proactive planning to shift the focus to prevention and becoming more resilient to minimize the impact of future events.
Earlier this year, 100RC tasked CSA Group with performing a prefeasibility study to enhance understandings of how Panama City coexists with water sources, ecosystems and climate change. CSA—a global provider of architectural, engineering and planning services—has been partnering with 100RC on projects since 2016.  "The studies were specifically related to water resource issues, such as investigations of flood-prone areas, environmentally impacted wetlands and mangrove forests, freshwater supply and potable water demand obstacles," says Hans X. Figueroa-Sweet, CSA's technical leader for water resources and resilience.  Nine of the 10 recommendations presented by CSA were adopted in "Panama Resiliente", an urban resilience strategy launched in August.
CSA has also worked extensively in the areas of response and recovery during natural disasters which makes us uniquely qualified to understand and contribute throughout the process. In the aftermath of Hurricane Maria in Puerto Rico, we mobilized with FEMA at the Joint Field Office in Puerto Rico within a week after the storm. We collaborated with the task force led by the U.S. Army Corps of Engineers on geotechnical, structural and hydraulic calculations and developing scope work and cost estimates for repair alternatives required for grant funding requests.
Read more on both projects here in the October 8th ENR publication Natural Disaster Preparation and Recovery section "Rising Above".